entrainement TOEIC : part 1
Cette partie comporte 6 questions.
Vous allez entendre 4 phrases par photographie et vous devrez sélectionner celle qui correspond le mieux à la photographie. Ici, je vous propose un entrainement TOEIC en ligne mais le jour du test, votre document papier ne contiendra aucune phrase écrite pour cette partie du test. Ainsi vous n'aurez sous les yeux que les photos et vous entendez les propositions à l'oral.
Tout d'abord, observez bien la photo. Ensuite, écoutez attentivement les 4 propositions ; soyez attentifs en particulier aux  sujets et aux verbes.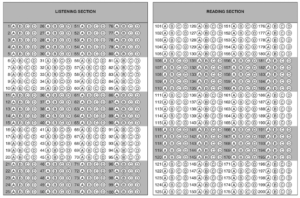 Attention : le TOEIC est un test format papier.  Ainsi la lettre correspondante à la meilleure réponse doit être notée sur votre feuille de réponse. Par ailleurs il est interdit d'écrire dans le livret.
Dans ce test d'entrainement TOEIC, je vous mets 10 photos au lieu de 6.
Bon test ! 🙂
You will hear 4 statements about a picture.
You must select the statement that best describes the picture.
In the TOEIC test, the statements will not be printed ; they will be spoken just once.
Vous allez entendre 4 affirmations à propos de l'image.
Sélectionnez celle qui décrit le mieux l'image.
Au TOEIC, les affirmations ne seront pas écrites ; vous les entendrez seulement une fois.
entrainement TOEIC (part2) :
compréhension orale de l'anglais :